Jo Thompson Recruitment contributes to the Report on Jobs, a comprehensive guide on the UK labour market that is drafted by KPMG and the Recruitment & Employment Confederation (REC), compiled by IHS Markit. The monthly report is built upon survey data from recruitment consultancies and employers, who share insights on the latest and most pressing labour market trends.
In the latest UK Report on Jobs, the REC, KPMG, and IHS Markit recorded a further fall in permanent placements, but a rise in temp billings. Vacancy growth improves for the second month running and we see the softest reduction in candidate supply for nearly two years.
Commenting on the latest survey results, Claire Warnes, Head of Education, Skills and Productivity at KPMG UK, said:
"The current economic outlook continues to impact hiring activity as employers keep playing the short game by focusing on temporary hires, while permanent appointments fall for the fifth month in a row. "Despite the rate of vacancy growth picking up to the best recorded in four months, candidate shortages remain, with recruiters citing hesitancy to move roles and longstanding, systemic skills shortages. Nursing, care and medical topped the rankings once again with highest demand for workers – both temporary and permanent. "These factors combined continue to play into pay inflation as employers try to compete with the rising cost of living. "What the economy needs now more than ever is a skilled workforce."
Kate Shoesmith, REC Deputy Chief Executive, said:
"This is further proof of ongoing demand in the UK jobs market, coming on the back of our most recent Labour Market Tracker report which showed new job adverts at a 14-month high in February." Commenting on today's report, Kate Shoesmith continued: "As hirers work out what variable economic forecasts might mean for their business and staff, it makes sense that we continue to see temp billings hold up so well. Temporary staffing ensures firms can continue to provide goods and services, and people can grow their careers – even when the economic outlook is unclear. Demand for staff continued to expand across both the private and public sectors. The rising cost of living, plus difficulties attracting and securing suitably skilled staff are also driving increases in starting pay. It will be particularly important to watch for any early trends coming from this data on regional disparities in supply and demand in the labour market. "What this latest Report on Jobs shows is serious labour and skills shortages are not behind us. The economy stands to lose up to £39 billion in GDP every year from 2024 unless business and government act now. Many businesses are doing what they can but the Spring Budget is the ideal opportunity to find a way forward together. The Chancellor must put people issues first, with innovative and refreshed policies on skills and tackling economic inactivity, and from immigration to childcare."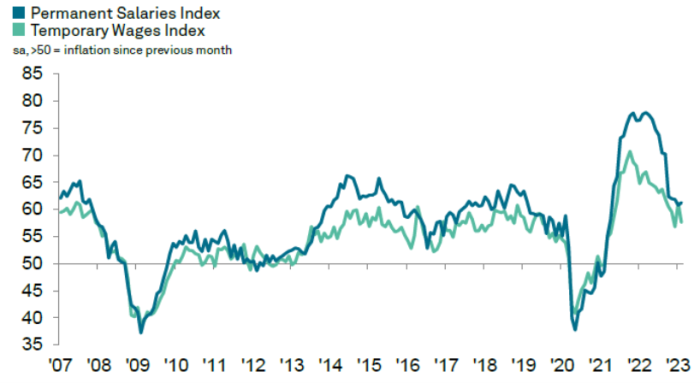 Executive Summary
The Report on Jobs is unique in providing the most comprehensive guide to the UK labour market, drawing on original survey data provided by recruitment consultancies and employers to provide the first indication each month of labour market trends.
The main findings for February are:
February sees a sustained fall in permanent placements
Permanent staff appointments across the UK fell for the fifth straight month in February, and at a slightly quicker pace than that seen in January. Recruiters often mentioned that clients adopted a more cautious approach to staff hires due to ongoing economic uncertainty. At the same time, billings for temporary workers continued to expand, albeit modestly.
Overall vacancy growth improves to four-month high
The latest survey indicated that overall vacancies continued to increase during February, with the rate of growth the best recorded for four months. Nevertheless, the upturn remained softer than that seen on average since the survey's inception over 25 years ago. Underlying data signalled that demand for permanent workers expanded at a quicker pace, while temp vacancy growth softened slightly.
Softest fall in candidate supply since March 2021
Recruitment consultancies signalled that the current downturn in candidate availability continued to ease midway through the first quarter. Overall staff supply fell at a mild rate that was the slowest seen for nearly two years, which was underpinned by softer falls in both permanent and temp candidate numbers. Panel members often commented that workers were reluctant to seek out new roles in the current economic climate, while ongoing skill shortages also weighed on staff availability. However, some recruiters noted that the supply of workers had improved due to recent redundancies.
Rates of starting pay continue to rise sharply
The rising cost of living and difficulties attracting and securing suitably skilled staff drove further increases in starting pay for both permanent and temporary roles in February. Permanent starters' salaries continued to rise at a quicker pace than that seen for temp pay, though in both instances the rate of growth was the second-softest for nearly two years.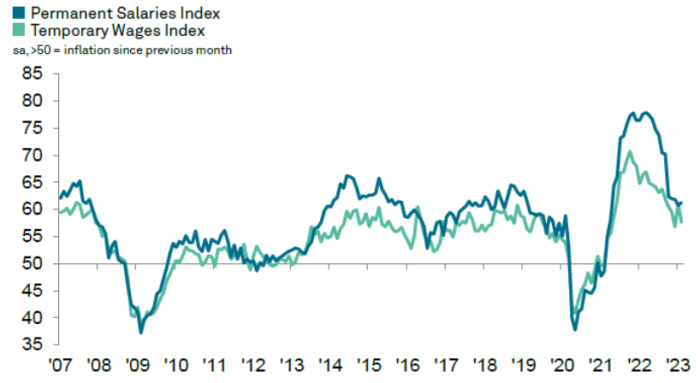 Vacancies
Strongest increase in vacancies for four months
The seasonally adjusted Total Vacancies Index increased from 54.5 in January to 55.6 in February, to signal an improvement in overall demand for staff for the twenty-fifth month in a row. The rate of expansion was the sharpest recorded since last October, albeit below the series trend (57.7).
Permanent and temporary vacancies
Supporting the quicker upturn in total vacancies was a stronger increase in permanent staff demand during February. Permanent roles expanded at a sharp pace that was the quickest for four months. Demand for short-term staff meanwhile rose at the softest rate for two years, albeit one that remained marked overall.
Public & private sector vacancies
Demand for staff continued to expand across both the private and public sectors midway through the first quarter. The quickest increase in vacancies was signalled for temporary staff in the public sector, closely followed by permanent workers in the private sector. The softest upturn in vacancies was recorded for temporary roles in the private sector.
Official Data: UK Job Vacancies
Latest data from the Office for National Statistics (ONS) showed that overall vacancies remained on a downward trend in the three months to January. The number of open roles fell by 76,000 compared to the prior three-month period (three months to October 2022) to 1,134,000, to mark the lowest level of vacancies since the three months to September 2021. That said, the figure was nearly +38% higher than that registered just before the pandemic (823,000 in the three months to February 2020).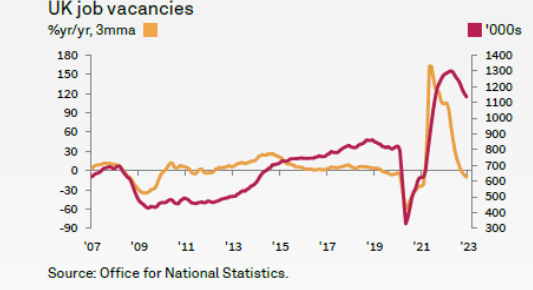 Staff availability falls at slowest rate for nearly two years
The overall supply of labour in the UK continued to decline midway through the first quarter, as signalled by the respective seasonally adjusted index remaining below the neutral 50.0 threshold. However, the pace of deterioration was the softest seen for almost two years and only modest. The latest survey indicated that both permanent and temporary candidate numbers declined at slower rates compared to January.
Mild drop in permanent labour supply
The availability of permanent staff across the UK remained on a downward trend in February, thereby stretching the current sequence of reduction to 25 months. That said, the rate of contraction was the slowest recorded since March 2021 and only modest. Where lower permanent candidate numbers were reported, recruiters generally attributed this to market uncertainty and the cost-of-living crisis, which has driven a greater reluctance among workers to seek new roles. Nevertheless, a number of panel members noted higher labour supply due to redundancies. Permanent staff availability rose in London but fell in the other three monitored English areas (South, Midlands and North).
Weakest reduction in temp candidate numbers for 23 months
As has been the case since March 2021, the supply of temporary workers declined during February. According to surveyed recruiters, candidate numbers were down as many workers preferred permanent job roles, but also due to a general shortage of skilled staff. However, the pace of deterioration was the slowest seen in nearly two years and only mild, with some recruiters noting that job shedding at some firms and relatively muted demand for staff had pushed up candidate numbers. The steepest reduction in temp staff supply was seen in the South of England. London was the only monitored area to see availability improve.
Special Feature
This section features data from the Recruitment and Employment Confederation
Zero hours contracts at record high
February's figures showed a continued increase of workforce participation, in a welcome sign that the UK's labour market is improving. But the accompanying increase in zero hours contracts may raise concern in some quarters. While zero hours contracts are different from temporary contracts and are used productively across different industries, the need for government to provide greater clarity on workers' rights is apparent.
The latest data from the Office for National Statistics showed a record-high net flow out of economic inactivity between July to September (Q3) and October to December (Q4) 2022. More than half (62%) of the people joining the workforce in that period came from economic inactivity. This is good news for the UKs as more people join the labour market and enter work.
At the same time, the ONS also reported a rise in zero hours contracts in Q4 2022, to a record high of 1.13 million. Compared to the same period in 2021, this is a 9.6% increase, showing how important flexible workers are to our labour market. But we caution that this should be seen within the context of workforce participation increasing overall.
In the week of 6-12 Feb 2023, the REC's Labour Market Tracker found that new job postings hit a 14-month high, with 256,855 new jobs being advertised. Particularly, roles in industries where zero hours contracts are common such as bar staff (+15.1%), cleaners and domestics (+11%), waiters and waitresses (+7.6), and sales and retail assistants (+4.8%) all saw substantial growth during this period.
As Resolution Foundation claims, the rise in zero hours contracts is a reminder of the need to boost the quality of work, not just the quantity. But while zero hours contracts can pose risks to some employees where the contracts are combined with other restrictions on working, such contracts are often misunderstood. They are not inherently exploitative and are used effectively in many sectors.
The REC has been campaigning for the creation of a Single Enforcement Body (SEB). Combining the remit of several government organisations that govern different labour compliance issues, the SEB is intended to be a one stop shop for all labour issues to improve clarity on workers' rights. Zero hours contracts are increasingly popular, and the number of people engaged on such contracts is continuing to rise each year. Improving the quality of work for workers of all types should be a priority for the upcoming Spring Budget.
At Jo Thompson Recruitment, we communicate seamlessly with hiring managers, and fuel collaboration by sharing information and insights. Hiring managers are time-poor, so providing pre-qualified candidates with data driven insights, and creating the agile and diverse workforce you need to succeed is a major win.
We can support you to refine your data-driven recruitment strategy and tailor your approach to each target audience. Help you make informed talent decisions around diversity and hidden talent pools. To discuss how Jo Thompson Recruitment can assist you with your resourcing needs, please email us at info@jtrltd.com or give us a call at 01635 918955 for further details.