Jo Thompson Recruitment contributes to the Report on Jobs, a comprehensive guide on the UK labour market that is drafted by KPMG and the Recruitment & Employment Confederation (REC), compiled by IHS Markit. The monthly report is built upon survey data from recruitment consultancies and employers, who share insights on the latest and most pressing labour market trends.
In the latest UK Report on Jobs, the REC, KPMG, and IHS Markit record permanent placements fall, temp billings stagnate and a further slowdown in vacancy growth. Starting salary inflation slips to 18-month low.
Commenting on the latest survey results, Claire Warnes, Head of Education, Skills and Productivity at KPMG UK, said:
"The looming recession is clearly impacting the UK jobs market. Employers' caution in hiring combined with fewer available candidates has resulted in the number of permanent placements falling for the first time in nearly two years. Now more than ever, it's essential that we focus on upskilling the workforce to support and boost economic recovery when it comes. The jobs market will bounce back, particularly if we invest in the skills of the workforce across all sectors of the economy."
Neil Carberry, Chief Executive of the REC, said:
"The economic and political uncertainty of September and October has caused employers to become more cautious in their approach to hiring than during the frenzy of earlier in the year. Decision-making timelines for permanent hires have extended, for instance. But vacancies and pay are still rising, temporary worker demand is high, and permanent hiring has fallen for the first time in almost two years. Activity, overall, is still well in advance of pre-pandemic levels. We will need to watch how this story develops over months to come, but so far this data suggests heightened employer caution, not a retreat from the market.
"It remains the case that firms in many sectors are struggling to hire, as hours worked remain below their pre-pandemic level despite record-low unemployment. We're looking to the Autumn Statement later this month to help with removing the brakes on growth by reforming the apprenticeship levy to build a more effective skills system, improving support to help people move from inactivity to work, and align other policy areas – like work permits – with a growth strategy. "
Executive Summary
The Report on Jobs is unique in providing the most comprehensive guide to the UK labour market, drawing on original survey data provided by recruitment consultancies and employers to provide the first indication each month of labour market trends.
The main findings for October are:
Fresh fall in permanent staff appointments
Recruitment consultancies indicated that hiring activity waned at the start of the fourth quarter, as the number of permanent placements fell for the first time in 20 months and temp billings stagnated. Survey respondents often mentioned that heightened economic uncertainty had led some clients to reassess their recruitment plans, while candidate shortages also dampened hiring.
Vacancy growth eases again in October
Although demand for staff continued to increase in October, the rate of vacancy growth softened for the sixth month running. Notably, the upturn in demand was the weakest seen since the current period of expansion began in February 2021, with both permanent and short-term vacancies rising at slower rates.
Overall availability of staff continues to drop sharply
The total supply of candidates fell sharply once again during October, despite the rate of reduction easing fractionally to the slowest since April 2021. The decline in permanent staff availability remained more acute than that seen for temporary labour. When explaining the latest drop in candidate numbers, recruiters commented that people had become more reluctant to switch or seek out new roles due to concerns around the weaker economic outlook, fewer foreign workers and a low unemployment rate.
Starting salary inflation dips to 18-month low
The latest survey data pointed to a softening of pay pressures during October. Although sharp overall, pay awarded to new permanent joiners increased at the slowest rate for a year-and-a-half. At the same time, temp wage inflation slipped to its lowest since May 2021. According to recruiters, starting rates of pay increased due to the rising cost of living and competition for staff. Growth of demand for staff weakest since February 2021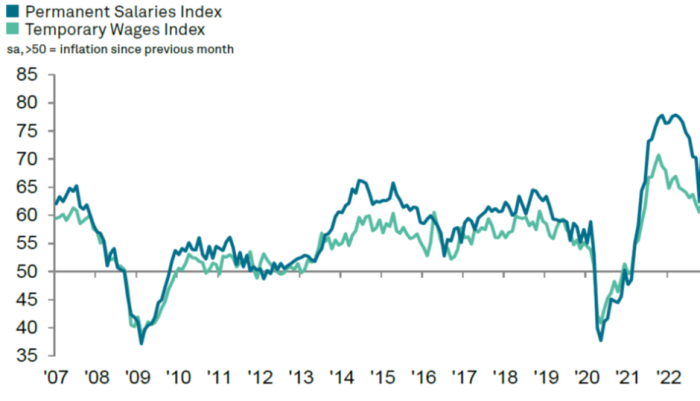 Pay Pressures
The recruitment industry survey tracks both the average salaries awarded to people placed in permanent jobs each month, as well as average hourly rates of pay for temp/contract staff.
Starting salary inflation slides to 18-month low
Adjusted for seasonal factors, the Permanent Salaries Index pointed to a further rise in salaries awarded to new permanent joiners in October. The rate of inflation eased notably on the month, however, and though sharp was the softest recorded for a year-and-a half. According to panellists, salaries were increased due to efforts to attract and secure scarce workers as well as the rising cost of living. Data split by English region showed that the quickest increase in permanent pay was seen in London, and the softest in the Midlands.
Softest rise in temp pay since May 2021
The rate of temp wage inflation softened for the second month in a row during October, to register the slowest increase in pay since May 2021. Nevertheless, the rate of pay growth remained sharp overall and comfortably above the long-run series trend. Candidate shortages were cited as the key driver of higher wages, while cost-of-living pressures were also mentioned as having pushed up rates of pay. London registered the fastest rise in wages during October, though marked increases were also seen elsewhere.
Official data: UK average weekly earnings
Latest data from the Office for National Statistics (ONS) showed that employee earnings (including bonuses) expanded +6.0% compared to a year ago in the three months to August. This was quicker than the rate of growth seen in the three months to July (+5.5%) and among the quickest upturns seen over the past 15 years. Stronger increases in pay were seen in both the private and public sectors, though the former remained much quicker than that seen for the latter (+6.8% versus +2.4%).
Source: Office for National Statistics.
Special Feature
This section features data from the Recruitment and Employment Confederation
Labour demand remains high amid economic uncertainty
In the last quarter of 2022, we're experiencing some challenging recruitment conditions, but the number of vacancies remains high compared to pre-pandemic levels. Candidate supply continues to fall at a historically sharp pace and employers are still struggling to fill their vacancies.
The REC's latest JobsOutlook reveals that in July-September 2022, business confidence in the UK economy fell by a further 3% from the previous rolling quarter to a new record low. Employers' confidence in making hiring and investment decisions also fell slightly. This is not surprising, given the bleak economic outlook with record high inflation and rising interest rates. Despite this drop in confidence, the immediate outlook for hiring remains positive — employers in September were more optimistic than in August and said that they intend to grow their workforces if they can find suitable candidates.
According to the REC's Labour Market Tracker, the number of active postings has stayed at a similar level since mid-August. The Institute for Employment Studies also points out that vacancies are continuing to grow in the public sector, which likely reflects that more people are leaving public sector jobs for better paid work in the private sector, as well as the struggles to recruit new staff in a highly competitive labour market. Businesses are still hiring, which signals that the jobs market remains robust amid economic uncertainty.
As vacancy levels remain high, employers continue to face challenges in filling vacancies. The latest data from the Office for National Statistics (ONS) shows that the UK unemployment rate for June to August 2022 decreased by 0.3% on the quarter to 3.5%, the lowest rate since December to February 1974. Moreover, the economic inactivity rate increased by 0.6% to 21.7% in June to August 2022. The lowest unemployment rate, along with growing economic inactivity, suggests that the developments in labour supply are worrisome.
Economic inactivity rose during the pandemic as people got sick, retired early, or stayed in fulltime education. However, the number of people who are economically inactive because of longterm sickness has increased to a record high. The UK labour force is contracting and is not meeting the demands of the economy. In a market where firms are under pressure but still need to hire, recruitment professionals are more important than ever as they are providing such an essential matching service. Government should tap into the knowledge of labour market experts to tackle regional disparities, improve productivity and support those who are currently economically inactive back into work.
Courtesy of IHS Markit, KPMG, and the Recruitment & Employment Confederation
While it's still hard to find top talent, businesses will need to ensure that their employer brands are well-represented during the hiring process, and that hiring practices are inclusive and engaging. Jo Thompson Recruitment specialises in helping organisations secure top-tier talent, combining over twenty-five years of experience with the latest scientific insights from world-class candidate assessments. We are proud to offer an engaging, candidate-centric experience that digs deep to understand how the values of our candidates and clients align.
To discuss how Jo Thompson Recruitment can assist you with your resourcing needs, please email us at info@jtrltd.com or give us a call at 07775 673129 for further details.