Jo Thompson Recruitment contributes to the Report on Jobs, a comprehensive guide on the UK labour market that is drafted by KPMG and the Recruitment & Employment Confederation (REC), compiled by IHS Markit. The monthly report is built upon survey data from recruitment consultancies and employers, who share insights on the latest and most pressing labour market trends.
In the latest UK Report on Jobs, the REC, KPMG, and IHS Markit recorded the steepest drop in permanent placements for over three years. Temp billings decline for the first time since July 2020, however, pay pressures remain sharp, despite upturn in candidate supply.
Commenting on the latest survey results, Claire Warnes, Head of Education, Skills and Productivity at KPMG UK, said:
"The August summer break has seen little change in the ongoing tight labour market conditions. If you're looking
for a new role – the market remains in your favour, as starting pay continues to be driven up by inflationary pressures and a high demand for candidates with specific skills across many sectors.
"For recruiters, the picture is still complex. Despite an increasing pool of candidates this month, the economic outlook is keeping businesses cautious. Many employers aren't ready to commit to permanent roles, and those who are indicate they cannot find candidates with the right skills, causing these placements to fall at a rapid pace during August – the sharpest for three years. Temporary billings slipped for the first time since July 2020, as squeezed budgets mean there's little room to bring on short-term staff. But certain sectors, like healthcare are bucking this trend, with sustained high demand for both temp and permanent staff. And as the appetite for tech and AI expertise keeps increasing, the IT sector needs temporary workers to support more projects.
"The underlying issue is that skills – or a lack of them – remain central to the tensions in today's labour market, and significant investment now for the long term prospects of the economy is vital."
Neil Carberry, Chief Executive of the REC, said:
"August is always a slower month for new permanent roles, but this has been exacerbated in 2023 by the lack of confidence to start the new hiring we saw among firms in the Spring. As inflation begins to drop, it is likely that firms will return to the market later in the year – employer surveys suggest confidence may be returning. But for now, the labour market has more slack than it has since the heights of the first lockdown. Firms continue to use temps to fill any short-run needs, with the small drop in August representing little change from the past few months.
"Recruiters routinely describe this sober overall picture as harder, but not necessarily bad. Vacancies are still in a strong position. There are huge variations between sectors, too. Hospitality, Accounting, Logistics, Manufacturing, Engineering and Healthcare continue to grow strongly for both permanent and temporary roles, meaning employers are still experiencing shortages. Demand for permanent healthcare staff has now risen for 37 months, for instance. In many of these sectors temporary staff are keeping employers going – including in the NHS, where agencies have been unfairly blamed for failures of training and procurement practice from NHS England. A focus on effective skills reform will be vital to addressing shortages overall in all the shortage sectors.
"With demand weakening, we see the drivers for rising pay being more to do with companies' pay settlements for existing staff, rather than market demand. Those finding new jobs are benefitting from rises that many firms put in place for their teams earlier in the year. That said, data shows pay pressures remain sharp for permanent workers in some sectors driven by ongoing shortages"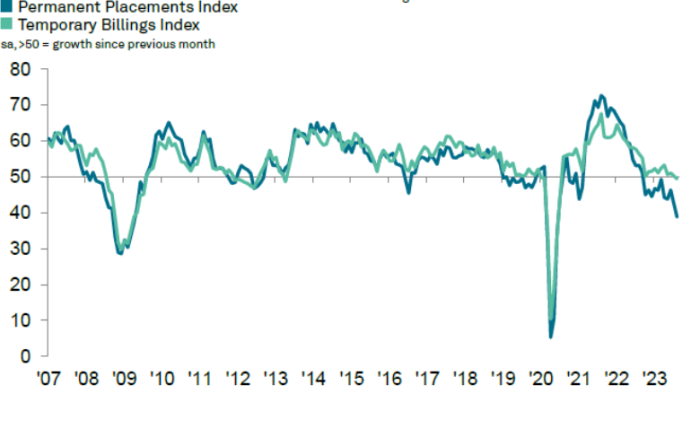 Courtesy of IHS Markit, KPMG, and the Recruitment & Employment Confederation
Executive Summary
The Report on Jobs is unique in providing the most comprehensive guide to the UK labour market, drawing on original survey data provided by recruitment consultancies and employers to provide the first indication each month of labour market trends.
The main findings for August are:
Permanent placements and temp billings fall in August
August survey data pointed to a broad-based decline in hiring activity across the UK. Permanent staff appointments fell at a rapid pace that was the quickest seen in over three years, while temp billings also contracted. Though marginal, it was the first time the latter had declined since July 2020. Recruiters frequently mentioned that employers were hesitant to commit to new hires and adopted recruitment freezes due to a weaker economic climate.
Overall candidate supply continues to rise rapidly
The overall availability of candidates expanded for the sixth straight month in August. Although the rate of improvement slowed from July, it was nevertheless the second-sharpest recorded since December 2020. There were widespread reports that redundancies and a general slowdown in hiring activity had driven the latest rise in labour supply, with both permanent and temporary candidate numbers expanding at rapid rates.
Total vacancy growth slips to two-and-a-half-year low
Overall vacancy growth softened for the sixth successive month in August. Furthermore, the latest increase in demand for staff was the weakest seen in the current two-and-a-half-year sequence of expansion and only marginal. The slowdown was driven by a softer rise in permanent vacancies, which increased only fractionally, as growth of demand for temporary staff remained strong.
Pay pressures remain elevated
Starting salaries and temp wages rose sharply in August, with recruiters often commenting that competition for scarce candidates and the higher cost of living had led employers to raise pay. However, the rate of starting salary inflation edged down to the joint-weakest since March 2021, and was much slower than that recorded a year ago. While temp pay growth picked up from July, it was the second-softest since April 2021.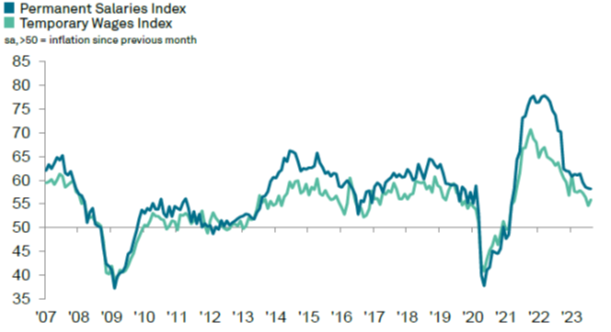 Courtesy of IHS Markit, KPMG, and the Recruitment & Employment Confederation
KPMG and REC, UK Report on Jobs: South of England
Lingering economic uncertainty weighs on recruitment in August.
In the latest UK Report on Jobs, the REC, KPMG, and IHS Markit recorded permanent staff appointments continue to fall rapidly and temp billings fall for second month in a row. Availability of temp staff expands at fastest rate in 32 months.
Staff Availability
Permanent staff supply rises at softer, but still sharp rate
August survey data revealed an upturn in permanent candidate numbers in the South of England for the sixth straight month. The rate of expansion was sharp, despite slipping to its lowest since May. There were often reports of redundancies pushing up candidate supply. Some recruiters also noted that more people were seeking out better paid roles. Nevertheless, the South of England saw a softer rise in permanent labour supply than that seen at the UK level.
Fastest increase in temp candidates since December 2020
Recruiters in the South of England signalled a sharp and accelerated rise in the availability of short-term staff during August. Temp worker supply has now increased in each of the past four months, with the latest upturn the sharpest recorded since December 2020. Panel members often mentioned that temp availability had increased due to layoffs and the non-renewal of contracts.
The supply of short-term staff also rose at a faster rate at the UK level, and one that was similar to that seen in the South of England.
Special Feature
This section features data from the Recruitment and Employment Confederation
Technology Jobs trends could take a turn as US Tech Giants reassess their operations in the UK
The recruitment landscape for technology jobs faces a challenge as major US tech companies threaten to scale back their operations and hiring in the UK. While nothing is certain yet, this could impact technology job vacancies and hiring trends if it comes to pass.
According to labour market vacancy data from Lightcast, temp jobs in July 2023 in the IT sector have decreased to 32.2% as compared to July 2021 and permanent jobs in the same period decreased by 26.1%. Out of which, Programmers and Software Development Professionals jobs experienced the most decline in the same period (46% for temp jobs and 37.2% for permanent roles). The potential withdrawal or downsizing of leading US tech firms like Google, Amazon and Facebook from the UK market could exacerbate this trend. These companies currently have a major presence in the country and are among the top hirers for tech talent. If they do reduce operations, it could mean a noticeable reduction in high-paying technology jobs.
But there is also hope and potential for new and different vacancies to open up. We are seeing the tech industry evolving rapidly for example with the increased use of AI. Building relationships with homegrown UK tech companies across thriving sectors like fintech, cybersecurity, EdTech and clean energy is key. These high-growth tech sectors are likely to keep up robust hiring even amidst any 'Big Tech' disruption.
Upskilling existing UK tech talent to transition into emerging roles will also become more valuable. With niche tech skills in AI, machine learning, automation and data analytics, candidates can fill vacancies even amidst a hiring slowdown.
Meanwhile, recruiters may need to be more flexible and creative in sourcing tech candidates beyond the usual dominant hirers. It would be good to avoid over-reliance on the big American companies for hiring volumes and diversify into wider European and global networks. Strong tech hubs persist in countries like Norway, Finland, Germany, Poland, and Canada.
With adaptability and focus, UK recruitment firms can stay aligned with market needs and continue matching talent to roles. As tech advances persist despite economic vagaries, the hiring demand won't disappear. The UK recruitment industry has weathered uncertainty before. With an eye for local talent and a focus on homegrown tech unicorns, it can continue serving technological hiring needs even if the US big tech companies take a pause in growth. It's a matter of looking at new opportunities and building more sustainable domestic tech hiring for the long term.
While it's still hard to find top talent, businesses will need to ensure that their employer brands are well-represented during the hiring process, and that hiring practices are inclusive and engaging. Jo Thompson Recruitment specialises in helping organisations secure top-tier talent, combining over twenty-five years of experience with the latest scientific insights from world-class candidate assessments. We are proud to offer an engaging, candidate-centric experience that digs deep to understand how the values of our candidates and clients align.
To discuss how Jo Thompson Recruitment can assist you with your resourcing needs, please email us at info@jtrltd.com or give us a call at 01635 918955 for further details.