Jo Thompson Recruitment contributes to the Report on Jobs, a comprehensive guide on the UK labour market that is drafted by KPMG and the Recruitment & Employment Confederation (REC), compiled by IHS Markit. The monthly report is built upon survey data from recruitment consultancies and employers, who share insights on the latest and most pressing labour market trends.
In the latest UK Report on Jobs, the REC, KPMG, and IHS Markit recorded that permanent placements decline again, while temp billings continue to expand modestly. Softer rise in vacancies, as staff supply declines at weaker rate.
Commenting on the latest survey results, Claire Warnes, Head of Education, Skills and Productivity at KPMG UK, said:
"The challenging economic environment continues to constrain the jobs market, as December's data shows. The ongoing industrial relations turmoil in many sectors, along with the scarcity of available staff in all sectors, means that wage inflation may soften only slightly in the near term. Yet, at the same time, vacancy growth rates are trending down again this month from a historically high peak in July 2021, as employers continue to rein in permanent hiring and employees choose to stay put. Overall, the jobs market looks less than rosy at the start of 2023, so employers who hold their nerve and continue to invest in skills in particular are likely to benefit most when the economic upturn comes."
Neil Carberry, Chief Executive of the REC, said:
"A slowdown in permanent placements is not unusual in December, but this one comes as part of a wider softening trend in the permanent market. Recruiters tell us that this was enhanced by firms pushing hiring activity back into January in the face of high inflation and economic uncertainty. The big test of the labour market will come this month. But overall activity levels remain high, with vacancies and starting rates of pay still growing. There is also plenty of demand for temporary workers, which is less affected by employer's long-term confidence. The overall picture is still of a robust labour market, although contraction in sectors such as construction is a particular concern given its significance to the health of the economy.
"As we move into 2023, the need to ensure our labour market can deliver economic growth and prosperity should be a critical concern to politicians. People telling recruiters that they are increasingly anxious about moving jobs is a concern in this regard – as a move is a great way to boost pay and build up skills. If people are less willing to move jobs, this could make shortages worse in the near term. That is why a stable economy, and support to address labour and skills shortages – from welfare to work support to immigration and skills reform, need to be major priorities for all the UK governments."
Executive Summary
The Report on Jobs is unique in providing the most comprehensive guide to the UK labour market, drawing on original survey data provided by recruitment consultancies and employers to provide the first indication each month of labour market trends.
The main findings for December are:
Permanent staff appointments fall at quicker pace
The number of people placed into permanent jobs fell for the third month running at the end of 2022, as increased economic uncertainty and pressure on budgets weighed on recruitment plans. The rate of reduction was the quickest seen since January 2021, when the third national lockdown dampened hiring. Temp billings meanwhile expanded further in December, though the rate of growth remained modest overall.
Overall growth of vacancies slips to 22-month low
Recruitment consultancies signalled a sustained rise in demand for staff in December. That said, the overall rate of vacancy growth weakened for the ninth straight month and was the slowest seen since the current period of recovery began in February 2021. This was driven by a weaker upturn in permanent staff demand, as temp vacancies expanded at a slightly quicker pace.
Candidate supply falls at softest pace since March 2021
Uncertainty surrounding the outlook also dampened candidate availability, as more people became cautious around seeking out new roles in the current climate. Combined with an already tight labour market, this drove further drops in the supply of both permanent and temporary labour. However, reports of redundancies in some areas meant that the overall rate of decline eased to the weakest in 21 months.
Starting pay increases at slower, but still strong rate
The latest survey indicated that pay pressures continued to soften at the end of the year, but remained strong in the context of historical data. Notably, rates of both starting salary and temp pay growth hit their lowest since April 2021. Where higher rates of pay were reported, this was frequently linked to competition for scarce staff as well as the rising cost of living.
Pay Pressures
The recruitment industry survey tracks both the average salaries awarded to people placed in permanent jobs each month, as well as average hourly rates of pay for temp/contract staff.
Starting salary inflation edges down again in December
Average salaries awarded to new permanent joiners increased again in December, thereby stretching the current period of rising pay to 22 months. That said, the rate of inflation retreated further from March's all-time record, and was the softest seen since April 2021. Nevertheless, the upturn remained sharper than the series average (57.3). When explaining the latest increase in starting pay, panellists often cited greater competition for scarce staff.
All four monitored English regions noted marked increases in permanent salaries.
Temp wages increase at weakest rate for 20 months
Average hourly wages for short-term staff also rose at a softer pace at the end of the year. The rate of inflation was the slowest seen since April 2021, albeit remained sharp overall. According to anecdotal evidence, clients had to up their pay offers due to the rising cost of living and candidate shortages.
The sharpest increase in temp wages was seen in the North of England, while the softest was in the South of England.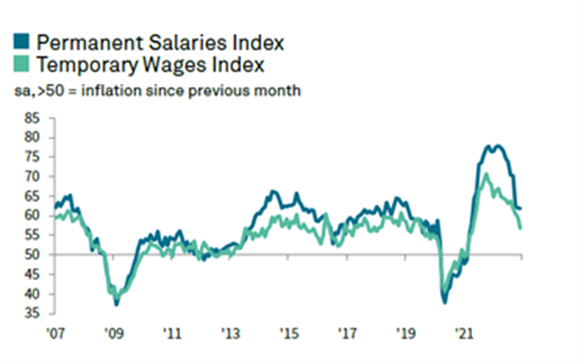 Special Feature
This section features data from the Recruitment and Employment Confederation
Demand from employers continues to remain strong as 2023 begins
If unpredictability was a buzzword of 2022, then economic uncertainty is likely a watchword for 2023. Rising interest rates have left many businesses unsure of what the future holds, such as their ability to pay their debts. And there is anxiety because the UK is experiencing its first double-digit inflation in four decades, making it difficult for businesses to predict their costs. Yet against this backdrop, vacancy data suggests that demand from employers for workers remains very high as the UK's candidate supply remains low.
The latest data from the Office for National Statistics (ONS) shows that in September to November 2022, the estimated number of vacancies fell by 65,000 on the quarter to 1,187,000. Despite this, job openings in all industries remained above their pre-pandemic January to March 2020 levels.
Throughout 2022, the employment, unemployment and economic inactivity rates tracked at very similar levels with only marginal changes. The employment rate is still far below pre-pandemic levels with the unemployment rate remaining close to record lows, suggesting that there had been fewer hours worked than before the pandemic. The data continues to demonstrate signs of a tight labour, making hiring difficult for employers.
Employers are turning to temporary workers to meet business needs. The number of temporary workers continued its recent rise, with more than 1.6 million temporary workers helping to keep the country's economy ticking over in August to October 2022. Temporary workers have always been crucial to our economy, especially in the run up to the festive Christmas period.
Looking ahead, a tight UK labour market is going to continue to hold back economic growth and squeeze living standards further. We encourage businesses to work with recruiters on strategies to increase productivity, and the Government must address skills shortages and migration policy. From right to work checks to proactive employment support, there are many tools to boost labour supply in the new year.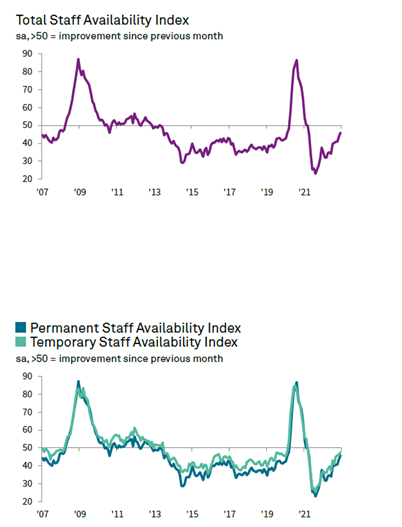 While it's still hard to find top talent, businesses will need to ensure that their employer brands are well-represented during the hiring process, and that hiring practices are inclusive and engaging. Jo Thompson Recruitment specialises in helping organisations secure top-tier talent, combining over twenty-five years of experience with the latest scientific insights from world-class candidate assessments. We are proud to offer an engaging, candidate-centric experience that digs deep to understand how the values of our candidates and clients align.
To discuss how Jo Thompson Recruitment can assist you with your resourcing needs, please email us at info@jtrltd.com or give us a call at 01635 918955 for further details.