Jo Thompson Recruitment contributes to the Report on Jobs, a comprehensive guide on the UK labour market that is drafted by KPMG and the Recruitment & Employment Confederation (REC), compiled by IHS Markit. The monthly report is built upon survey data from recruitment consultancies and employers, who share insights on the latest and most pressing labour market trends.
National Trends
In the latest UK Report on Jobs, the REC, KPMG, and IHS Markit recorded that permanent placement growth remains subdued, while temporary billings expand at softest rate since February 2021 and vacancy growth slips to 18-month low.
Commenting on the latest survey results, Claire Warnes, Head of Education, Skills and Productivity at KPMG UK, said:
"Unsurprisingly, the economic uncertainty continues to impact all aspects of business as we come to the end of the summer. August's data show an increasingly challenging jobs market, both in the sharp decline in the supply of candidates and in the slowdown in recruitment which we have seen for the last few months. Despite these challenges, it's vital that investment in people continues. Businesses may be better able to weather the economic storm through sustained investment in upskilling the available workforce."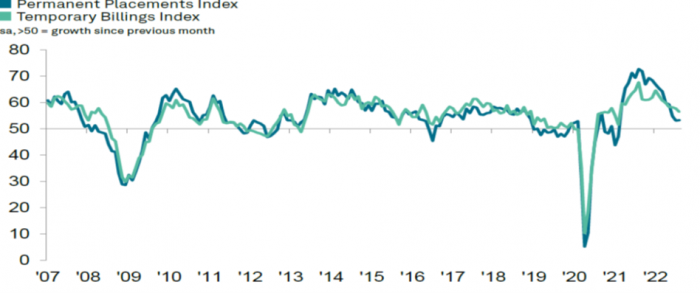 Neil Carberry, Chief Executive of the REC, said:
"August was another month of growing placements across temporary and permanent roles. While the post-pandemic jobs rush is now abating, there were no real signs of a slowdown in employer demand. Indeed, reports from REC members suggest that any lowering of confidence in the market is driven primarily by candidates playing it safe, with the effect of further tightening the market. So, it's no surprise that pay rates continue to rise, especially considering increasing inflation. In this market, hiring companies need to think hard about the right approach to getting the skills they need, working with professional recruiters. "The big question is now about the sustainability of this positive position, as labour shortages damage growth and pay over the long term. Controlling inflation and a clear plan for growth are essential parts of making sure the UK is resilient to economic uncertainty. But both rely on our new Prime Minister and her team working with businesses to address shortages across our labour market. Radical reform of the failed apprenticeship levy, support on small business energy costs, an immigration policy that helps the economy and regulation that supports temporary work rather than penalising it, all have to be on the agenda."
Executive Summary
The Report on Jobs is unique in providing the most comprehensive guide to the UK labour market, drawing on original survey data provided by recruitment consultancies and employers to provide the first indication each month of labour market trends.
The main findings for August are:
Economic uncertainty weighs on recruitment plans UK recruitment consultancies signalled further increases in both permanent staff appointments and temp billings during August. That said, the rate of permanent placement growth was little-changed from July's 17-month low, while temp billings expanded at the softest pace for a year-and-a-half. While strong demand for workers and efforts to fill vacancies supported the overall upturn in hiring, there were reports that greater economic uncertainty, rising costs and candidate shortages had dampened growth.
Overall vacancies expand at slowest rate for 18 months
August survey data pointed to a further slowdown in growth of vacancies. Though sharp by historical standards, the latest increase in demand for staff was the weakest seen for 18 months, with recruiters signalling softer rises in both permanent and temporary vacancies.
Softest increase in starting salaries since June 2021
Average starting salaries for permanent staff continued to rise rapidly in August, though the rate of inflation softened further from March's survey record. Notably the rate of salary growth was the softest seen for over a year. Temp wages meanwhile rose at a slightly sharper pace, albeit one that was the second-slowest since June 2021. Higher rates of pay were frequently linked to intense competition for candidates and the rising cost of living.
Candidate availability falls at slightly weaker rate
The overall supply of candidates continued to fall sharply in August, with permanent worker availability deteriorating at a quicker pace than that seen for short-term staff. A generally tight labour market, fewer foreign workers and a reluctance to seek out new roles due to uncertainty weighed on staff supply. That said, the decline in total candidate numbers was the softest seen for 16 months.
Final Thoughts
Vacancies hit all-time high as economic uncertainty continues.
Economic uncertainty in the UK continues to heighten and employers' confidence continues to drop. The UK economy remains turbulent as record vacancy numbers highlight the risk posed by labour shortages. The REC's latest Jobs Outlook shows that in May-July 2022, business confidence in the UK economy fell by a further 5% from the previous rolling quarter. Employers' confidence in making hiring and investment decisions also fell by 5%. The latest KPMG and REC UK Report on Jobs survey showed that permanent staff appointments continued to expand at a relatively subdued pace and temp billings growth edged down to its lowest for 18 months, as increased uncertainty around the outlook led some businesses to become more cautious around staff hiring.
However, according to the REC's latest Labour Market Tracker, active job adverts hit a record high of 2.08 million for 2022. The rising number of active postings likely reflects job adverts being left open for longer, with employers across the country struggling to attract candidates for their vacancies. Businesses are desperate to hire new staff despite uncertainty in the economy, and the increase in temporary workers emphasises the vital role this type of engagement plays in helping firms stay productive when skills are scarce. Despite rising inflation and energy costs, there is no sign that the labour market is starting to shrink.
Starting salaries are also growing strongly for employers to stay competitive. However, the Institute for Employment Studies points out that pay overall continues to fall sharply in real terms. Soaring inflation is wiping out strong nominal pay growth, pushing 'real' pay into the negative – falling by 2.2% in real terms in the private sector and by 5.6% in real terms in the public sector. Inflation is also driving up operating costs for businesses. With companies struggling to cover theses rises through higher productivity, higher prices are passed on to customers. Business surveys are showing labour costs as a key driver of rising prices.
The UK labour market has previously met higher demand with higher supply, but this link has now been broken. All of this only stresses the importance of businesses working with professional recruiters on their workforce planning. Part of the solution will be more inclusive recruitment processes, but it also means investing in training and ensuring working conditions and benefits are competitive enough to help attract and retain talented people, so that your business can stay productive during uncertain times. Even when the best candidates are in short supply, our extensive network and premier testing ensures that we will find the ideal candidate for your vacancy. Email us at info@jtrltd.com or give us a ring at 07775673129 for further details.